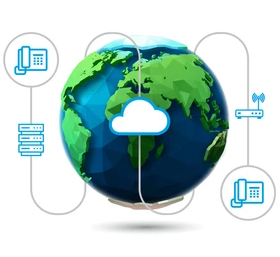 Our SIP trunking serves businesses that already installed an on premises PBX system that they want to keep, but they need to switch VoIP providers.
This service partitions a company's unified communications into two separate domains, private within the company and out to the public.  Companies must communicate with the outside world even when they have the equipment for a private network on site. SIP trunking connects an on premises PBX up to the public networks.
A SIP trunk is not a physical piece of equipment, but rather a set of software rules that allows the company's data lines to mimic phone lines. The public side requires a Class 5 softswitch, a piece of software to stand in for the old physical phone switching. Network borders firmly separate the public from the private domains, ensuring the business's internal communications security and compliance with public regulations simultaneously.
If a company does not already have an on premises PBX phone system, then our Hosted PBX Service is probably more efficient and cost effective.
Call us today to discover what the best custom fit options for your business are! We're sure you'll be pleasantly surprised at the cost, both in money and in time.